Custom traffic cones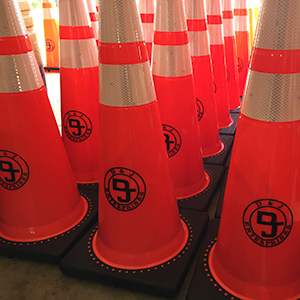 What are traffic cones?
A traffic cone is a temporary, portable device used to manage, divert and control vehicle and pedestrian traffic in various situations. Its primary purpose is to guide, warn, or divert drivers and individuals around hazards, construction zones, accidents, or other areas where caution is required. Traffic cones are typically orange or lime in color and can also be used to delineate parking spaces, separate lanes, act as barricades, or create temporary road closures. Can you put a custom logo on a traffic cone? Yes, you can customize traffic cones with your custom logo. This could be something as simple as the initials for the business name or something more advanced like the company logo.
What is the shape of a traffic cone?
A traffic cone is typically conical in shape, hence the name. It has a wide, sturdy base for stability and tapers to a pointed top. Most traffic cones are made of a flexible, weather-resistant orange or lime plastic material, allowing them to withstand impacts from vehicles and bounce back into shape. They are usually bright orange or fluorescent colors to maximize visibility and often have reflective strips or bands around them to improve visibility in low-light conditions or at night. Traffic cones can vary in size, with smaller ones used for indoor applications and larger ones for outdoor use, but they generally range between 18 and 36 inches in height.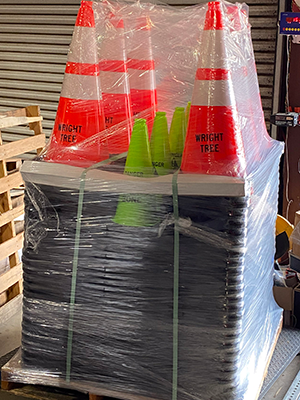 What are the different sizes of cones?
Custom traffic cones come in various sizes and heights. Common cone heights are 18, 28, and 36 inches. Smaller cones are used for low-speed areas or pedestrian crossings, while larger cones are typically used for faster-moving roads. When ordering custom safety cones with a logo, it is important to also consider its size and how it will be printed on the cone. T Additionally, there are various base options available for custom traffic cones including rubber bases and dual reflective collar.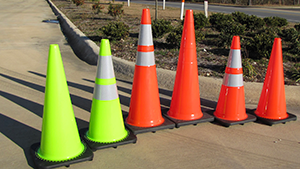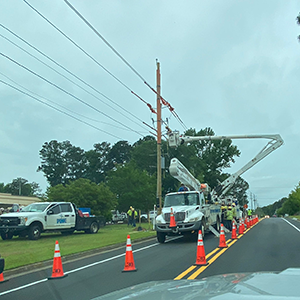 Benefits of custom safety cones:
Custom cones are a great way of promoting your business or organization. Whether you're looking for traffic cones with a logo or need to personalize traffic cones for a special event, customizing your traffic cones is the perfect solution. With high-quality materials and vibrant colors, custom traffic cones can add personality and flair to any project. Plus, they're easy to transport and store, making them a practical choice for any occasion. custom traffic cones with your company's logo are less like to be stolen.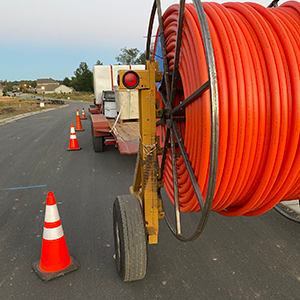 Cones with reflective collars are great for safety purposes both day and night. Custom traffic cones make your brand more recognizable and easily identifiable. By adding logo printing or reflective tape, you can further customize your message while making sure it stands out in any environment. With the right tools at your disposal, creating custom traffic cones has never been easier. Let your creativity shine and make The cones are flexible plus, they are easy to move and store and can come in various shapes and sizes. That means you can choose the perfect cone for any situation or event. And when you choose to personalize your cones with your logo, you'll create a unique look that will stand out from the crowd. With custom traffic cones, it's easy to keep your brand front and center. Make an impact with custom
What options are available with traffic cones?
Cone bars are a popular choice to connect 2 or more traffic cones. The picture below show an example of two cones connect together. Cone toppers are another option that is available.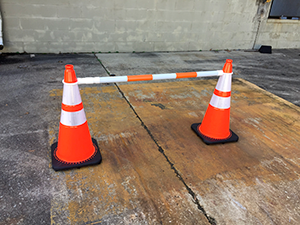 What to expect after your order is placed.
You will be emailed a proof of your layout and once you have approved it we will begin production. Custom logos typically take 1 to 3 days to produce. Your request for customization can begin on our website or our latest catalog. You will receive emails from us during the process and can request additional proofs. Picture of two traffic cones with an optiona cone bar. What are reflective collars? Cone collards appear similar to reflective tape that is applied to the top of the cone.
Question? Please feel free to email or call us (888-728-7665) if you have any question about custom traffic cones. We offer low prices and fast shipping. Discounts are available when you order larger quantities. We keep cones in stock for fast shipping.