Talk to an expert 888-728-7665
Regulatory Signs:
Regulatory traffic signs are some of the most common signs on the road. They include Stop Signs, Speed Limit Signs, One Way Signs, Turn Prohibition Signs, Do Not Enter Signs, and other signs that convey the rules of the road to motorists. Regulatory signs should be installed at or near where the regulations apply. The signs should clearly indicate the requirements imposed by the regulations and should be designed and installed to provide adequate visibility and legibilty in order to obtain compliance.
Shop Regulatory Signs by Category:
What are Regulatory Signs?
It is a traffic control device, defined by Federal Highway Administration in the Manual on Uniform Traffic Control Devices (MUTCD) in the United States, used to inform road users of traffic laws or regulations. These signs, which can include stop signs, yield signs, and speed control signs, are typically rectangular or square and use a combination of symbols, colors, and text to convey their specific directives and inform drivers and pedestrians of applicable laws and regulations.
How do they differ from warning and guide signs?
Warning signs are usually yellow and diamond-shaped, designed to alert drivers of potential hazards ahead, while guide signs are typically green, blue, or brown and provide directional and informational assistance, such as route markers, street names, and points of interest.
What colors are common?
They are primarily white with black or red lettering or symbols, although stop signs are a red sign with white background, and yield signs are a red color and white.
What is the purpose?
To inform drivers of traffic rules and regulations that they must obey, ensuring safety and smooth flow of traffic. They provide necessary information such as speed limits, intersection controls, and lane usage, helping to reduce uncertainty and potential conflicts among road users. These signs help reinforce traffic laws for highway users while providing guidance to help regulate traffic and public behavior.
What are examples?
Examples include stop sign, yield sign, speed limit sign, no U-turn sign, no parking sign, and lane control sign.
What are the common sizes? The conventional size for a stop sign is 30 inches wide by 30 inches tall. Rectangular signs are typically 24 inches wide by 30 inches tall, but many factors affect the size of a sign, including traffic volume and other highway signs. Parking signs and pedestrian signs are typically smaller in size when compared to conventional regulatory versions. What are the most common regulatory signs? The most common examples encountered on roads and highways are the stop sign, yield sign, and a speed limit sign. Other prevalent versions include one-way signs, no parking signs, and lane control signs that govern turning, merging, and the use of specific lanes. What are the typical shapes? Rectangular or square, with some exceptions such as the octagonal stop and the inverted triangle yield sign. Symbols these signs are commonly used to indicate the restriction.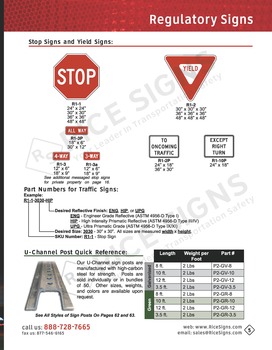 Catalog Page 5
Click to view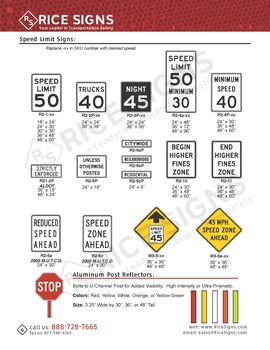 Catalog Page 6
Click to view
Catalog Page 7
Click to view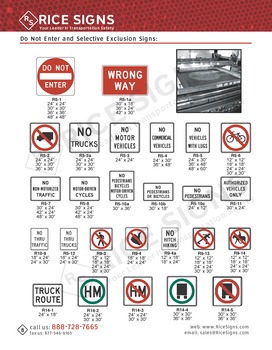 Catalog Page 8
Click to view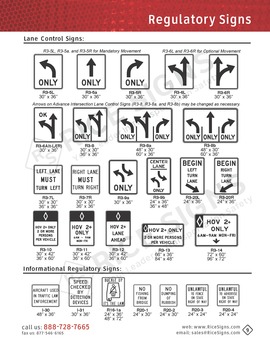 Catalog Page 9
Click to view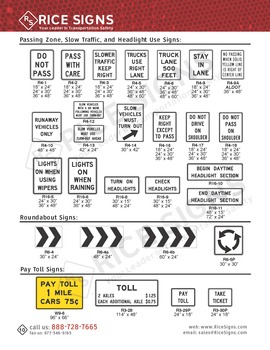 Catalog Page 10
Click to view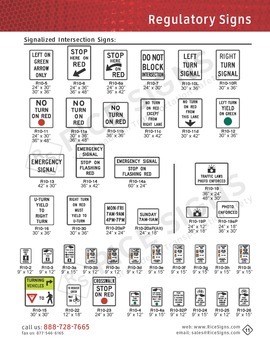 Catalog Page 11
Click to view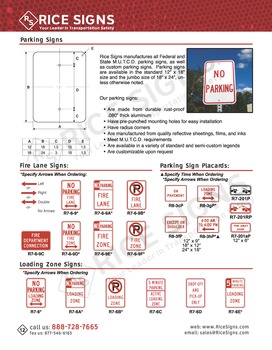 Catalog Page 12
Click to view