Speed Limit Signs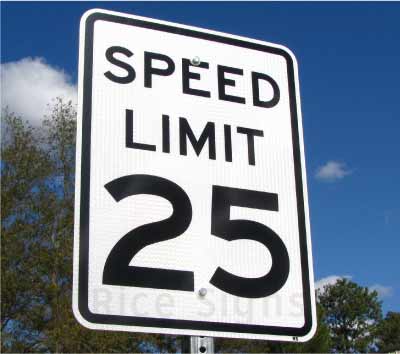 Speed Limit Signs - Features
Rice signs is a leading national supplier of speed limit signs and related products. Our speed limit signs are manufactured on .080 inch thick aluminum with your choice of reflective sheetings. We offer 2 main categories of reflective material: (1) High Intensity Prismatic - HIP and (2) Full Cube Prismatic. HIP sheeting is a very reflective product at night and carries a 10 year outdoor warranty. The Ultra Prismatic sheeting is even more reflective at night than HIP and carries a 12 year warranty.
What is the purpose of speed limit signs?
The purpose of a MUTCD R2-1 speed limit sign is to inform drivers of the maximum legally permissible speed they are allowed to travel on a particular road or area. This helps ensure safety by promoting appropriate speeds for varying road conditions and reducing the risk of accidents.
How are speed limits determined?
Speed limits are set based on the road conditions, traffic patterns, and surrounding environment to reduce the risk of accidents. Adhering to the regulations and other regulatory signs helps ensure that drivers can maintain control of their vehicles and react appropriately to unforeseen situations.
Which Speed Limit Signs have the best performance?


We offer two options to choose from for the sign sheeting: High Intensity Prismatic (pictured on the left) and Ultra Prismatic (pictured on the right). The sign sheeting is the reflective part of the sign that is bonded to the aluminum. What is the different between the two? While both are reflective, the Ultra Prismatic is more reflective at night and carries a longer warranty. What is the cost difference? They price is slightly higher to buy Ultra Prismatic however it will last longer outdoors. Engineer grade does not meet the minimum federal specification for reflectivity and it typically not used on State of Federal roads. HIP meets the minimum federal requirement, however many states require Ultra Prismatic sheeting.
Speed Limits Make Roads Safer For Motorists And Pedestrians
The proper signage that requires drivers to travel slower can help protect children, pedestrians and bikers.
What are the benefits of speed limit signs?
(1) Speed limit signs help protect pedestrians and cyclists. Slower speeds give drivers more time to react to pedestrians and cyclists sharing the road. Lower speed limits in areas with high pedestrian and cyclist activity, such as school zones and residential streets, help protect vulnerable road users.
(2) Speed limit signs also reduce traffic congestion by setting a uniform speed limit that allows so traffic can flow more smoothly, leading to fewer traffic jams and a more efficient use of the road network.
(3) Speed limit signs help minimize environmental impact: Speed limits can help reduce fuel consumption and emissions, as driving at excessive speeds can lead to increased air pollution and noise levels.
Is a speed limit signs a regulatory signs or parking sign?
Speed limit signs are regulatory sign and they are found in the MUTCD regulatory section as opposed to a parking sign section. Other common regularity signs include stop signs and yield signs.
What are the colors of speed limit signs?
The color of the sign features a black border and a white background, displaying the number or numbers in black text. In the United States, speed limit signs are generally expressed in miles per hour (mph), while in most other countries, it is indicated in kilometers per hour (km/h).
Do these Speed Limit Signs come with sign posts?
No, speed limit sign do not come with sign post, however we offer a variety of different length post and styles to chose from. Many smaller speed limit signs will only require one post for proper mounting, however larger versions can require multiple post.
Where are speed limit signs located?
Speed limit signs are usually placed at regular intervals along the road, particularly at the beginning of a new speed zone or after major intersections, to remind drivers to adjust their speed accordingly. They are often found in residential neighborhoods and on HOA streets.
Who decides the speed limit?
The posted speed limit is usually based on an assessment of these factors by traffic engineers and may vary depending on the type of road, such as residential streets, highways, or school zones. Various other factors, such as road conditions, visibility, and the presence of pedestrians or cyclists also contribute to the selection.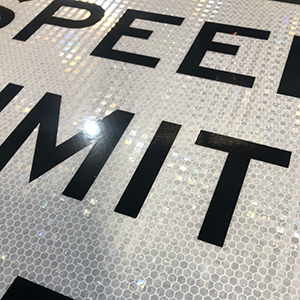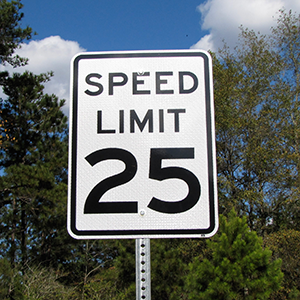 What other forms do speed signs come in?
Speed limit signs can be purchases in the form of a roll up sign. The picture below show a speed limit 45 sign that is installed on a portable sign stand. This would be useful in many construction zones where signs are moved often.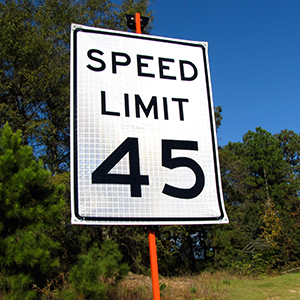 Speed limit signs can often take different forms in a construction zone. Below you will see the close up of an orange work zone aluminum speed limit sign that has a modified speed limit sign.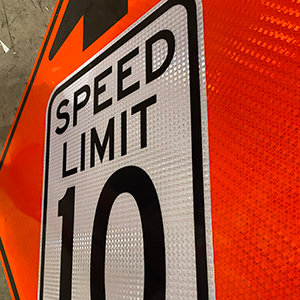 Yellow speed limit signs are often used in circular intersections and roundabouts. The sign indicated the maximum speed in the intersection.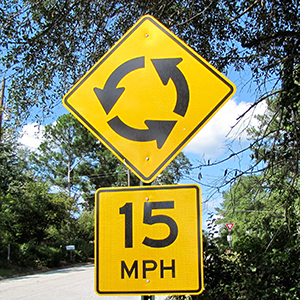 Additional Information
How are speed limit signs measured? Speed limit signs are typically sold in a conventional dimension of 24 inches by 30 inches. This means that the sign is 24 inches wide by 30 inches tall. We offer all the federal and state sizes including all the different sheeting types to keep your signs compliant for state and federal highways.
Where are the holes drilled on a speed limit sign?
The picture below shows the placement of the two holes on a 24 by 30 speed limit sign.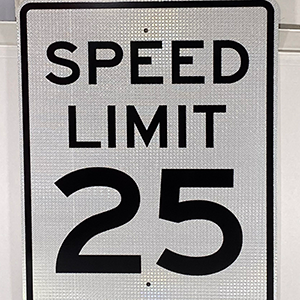 A picture showing the speed limit decreasing from 35 mph to 25 mph speeds in a work zone.
Question? Please feel free to email or call us (888-728-7665) if you have any question about speed limit signs. We offer low prices and fast free shipping and delivery. We also offer discounts when you order larger quantities. We keep this product in stock for fast shipping.