About Rice Signs
Rice Signs is a manufacturer of traffic signs, roll-up mesh construction signs, and street signs. We are located within the Industrial Park of Auburn, Alabama and ship to all 50 states. We offer a full line of traffic signs, roll-up signs, and highway signs that are DOT and Federal MUTCD compliant. Our traffic signs are made of the highest quality reflective materials. We are pleased to offer hundreds of in-stock traffic signs and highway products at very competitive prices. We offer all of the state-specific and federal MUTCD compliant traffic and street signs, even if they are not listed in our catalog or on the website. Our street sign shop has the capabilities to produce almost any sign you can think of. Our goals at Rice Signs are to out-price the competitors, provide friendly and knowledgeable customer service, and to provide the quickest turnaround time in the industry.
Our Traffic Sign Plant
Our traffic sign manufacturing facility is located within the Industrial Park of Auburn, Alabama. At this facility we manufacture all of our traffic signs, mesh construction signs, roll-up signs, and street name signs. We use various fabrication techniques depending on the type of street sign. All of our shipments from the plant are either picked up by our UPS or FedEx, or by motor freight services. Plant tours are not available due to liability reasons.
Directions/Will Call Customers
Will call customers should contact customer service at 888-728-7665 to place orders and ensure availability of items. Customer service will inform you when the order is ready.
Pickup Address:
2256-C Pumphrey Ave, Auburn, AL 36832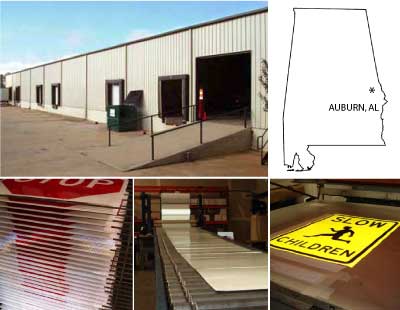 Our Manufacturing Capabilities Include:
Reflective Aluminum Traffic Signs

Our traffic signs use the highest quality reflective sheetings and materials.

Custom Traffic Signs and Street Signs

We can manufacture any custom traffic sign conforming to MUTCD Standards. We will be glad to assist you in your needs for custom traffic signs.

Street Name Signs

Roll-Up Signs

We provide a full line of MUTCD Compliant Roll-Up Signs for construction work zones. We offer traditional roll-up signs, as well as mesh roll-up construction signs.

Construction Sign Stands

We offer the highest-quality crash tested and approved sign stands, for both rigid aluminum and roll-up signs.