Yield Signs
---
A yield sign is a regulatory sign used to indicate to drivers that they should slow down and yield or come to a complete stop to yield the right of way if necessary. It is typically a white triangular sign oriented as a downward pointing triangle with the word YIELD written in bold, red text and red border. Yield signs posted at intersections or other points on the road where two or more lanes of traffic merge, or where the right of way is given to traffic coming from another direction. When approaching a yield sign, drivers are expected to check for other vehilces or road signs, and if necessary, stop and wait until it is safe to proceed.
Yield Sign Details:
Sign is manufactured on durable rust-proof .080" aluminum
Pre-punched 3/8" mounting holes in top and bottom for easy installation.
Meets M.U.T.C.D. specifications for highway use.
See in our catalog on page 5.
In Stock - Usually ships same or next business day.
High Intensity Prismatic Reflective on .080" Aluminum:
MATERIAL
SIZE
PRICE PER SIGN
ADD TO CART
Catalog Part #
1 to 4
5 to 9
10 +



High Intensity Prismatic

30" x 30"

$53.35

$50.68
$48.02

R1-2-3030-HIP

36" x 36"

$68.75

$65.31
$61.88

R1-2-3636-HIP

48" x 48"

$101.09

$96.04
$90.98

R1-2-4848-HIP
Full Cube Prismatic Reflective on .080" Aluminum:
MATERIAL
SIZE
PRICE PER SIGN
ADD TO CART
Catalog Part #
1 to 4
5 to 9
10 +



Full Cube Prismatic

30" x 30"

$63.91

$60.71
$57.52

R1-2-3030-UPG

36" x 36"

$79.86

$75.87
$71.87

R1-2-3636-UPG

48" x 48"

$115.72

$109.93
$104.15

R1-2-4848-UPG
---
Available Reflective Finishes:
High Intensity Prismatic Reflective
Full Cube Prismatic Reflective

Most common reflective finish used for traffic signs
Meets federal minimum requirements
10 Year Outdoor Durability

Brightest and most visible
Exceeds federal minimum requirements
10 Year Outdoor Durability
Sign Posts
Sign Installation Hardware
Other Yield Signs


How are yield signs measured? This sign comes in various sizes to accommodate different road conditions and visibility requirements. A 30-inch sign, designed for smaller streets and lower speeds, has a height of 24.5 inches, ensuring that it remains easily visible to approaching drivers. Similarly, a 36-inch yield sign, more suited for larger roads with increased traffic, stands at 29.2 inches tall, providing enhanced visibility. For even larger roads with higher speeds, a 48-inch yield sign is used, boasting a height of 38.6 inches to maximize visibility and ensure drivers have ample time to react and comply with the sign's instructions.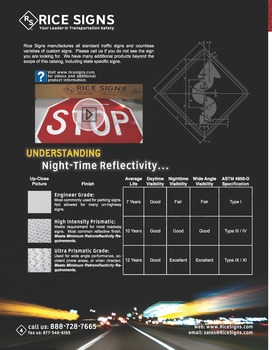 Catalog Page 4
Click to view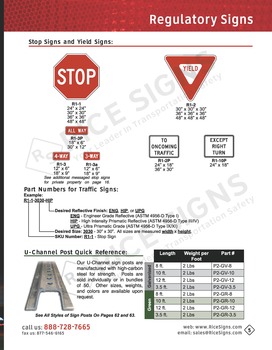 Catalog Page 5
Click to view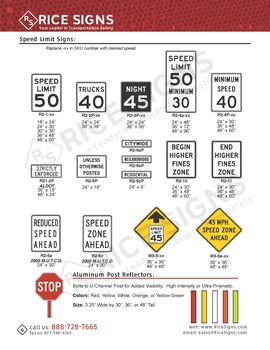 Catalog Page 6
Click to view
---
Specifications:
Legend:
YIELD
MUTCD Sign Code #:
R1-2
Shape:
Equilateral Triangle
Color:
WHITE on RED
Available Sizes and Weights:
Size: 30" x 30"; Ship Weight: 3.9 lbs
Size: 36" x 36"; Ship Weight: 5.6 lbs
Size: 48" x 48"; Ship Weight: 9.9 lbs
Available Styles:
High Intensity Prismatic Reflective on .080" Aluminum
Full Cube Prismatic Reflective on .080" Aluminum
Full Description:

R1-2 have a red background color. The text and border are white and it is in the shape of a equilateral triangle.
---
Yield Sign Photos: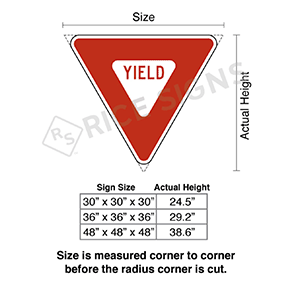 A yield sign is measured along the side from the imaginary corners at the points. The reason the measurement is from the imaginary corners is because the size of the metal is determined before the corners are rounded.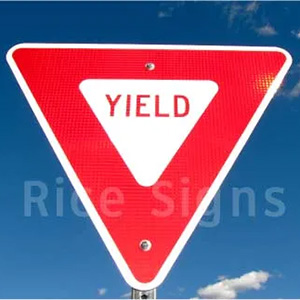 A picture of our 30" Yield sign with high intensity reflecive.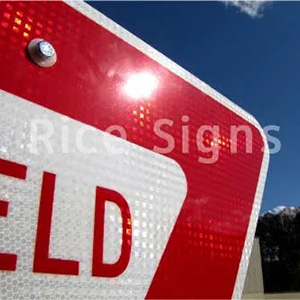 Up-close photo of our retroreflective yield traffic sign.
---
Product Questions and Answers:
Question: What shape are Yield SIgns?
Answer: Yield signs are the shape of an upside down equilateral triangle with rounded corners. The yield sign is the only standard traffic sign in United States that uses the equilateral triangle shape. All three sides of a yield sign are the same length.
---
Why Choose Rice Signs?
Rice Signs is known for its outstanding customer satisfaction, as evidenced by our myriad of positive reviews. With a large selection of yield signs in various sizes and materials, we guarantee a perfect fit for your needs. Our extensive experience ensures top-quality production and swift delivery, making us the trusted choice for your signage requirements.
QUALITY PRODUCTS - GREAT VALUE - FAST SHIPPING
Example Use:
In a busy shopping mall parking lot, vehicles constantly move in various directions, searching for spots or exiting the area, while pedestrians, including families with children and individuals with shopping carts, navigate between cars. Placing a yield sign at the intersection of primary driving lanes can be particularly useful. For instance, consider a situation where two cars approach the intersection, one from the main driving lane and the other from a side lane. The yield sign, facing the vehicle in the side lane, signals to that driver to pause and allow the vehicle in the main lane to pass before proceeding. This simple traffic management tool not only helps in preventing potential collisions between vehicles but also ensures that drivers are more attentive to their surroundings, especially to pedestrians crossing their path, thus contributing to overall safety in the parking lot.