Span Wire Sign Bracket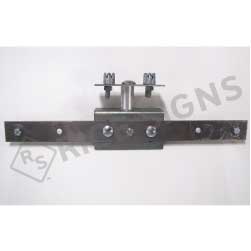 SKU#
H-290
| Quantity | Price Each |
| --- | --- |
| 1 to 5: | $94.75 |
| 6 to 24: | $90.01 |
| 25 +: | $80.54 |
In Stock - Usually ships same or next business day.
---
Details for Span Wire Sign Bracket:
---
Span Wire Sign Bracket Specifications:
| | |
| --- | --- |
| SKU #: | H-290 |
| Weight: | 2 lbs |
| Dimensions: | 18 Inches x 5.75 Inches x 2 Inches |
| Product Color: | Silver |
Example Use:
Span Wire Sign Brackets are specialized hardware devices designed to safely and securely attach traffic signs directly to the same wire or cable from which traffic signals hang. For instance, in a busy urban intersection, one might observe a traffic signal suspended above the road by a series of thick, taut cables or wires. Instead of installing an additional pole or post just for a road sign (e.g., 'No Right Turn on Red'), a Span Wire Sign Bracket can be used. This bracket is clamped onto the existing cable, providing a sturdy base to which the traffic sign is attached. This not only saves space and reduces clutter at the intersection, but it also can be cost-effective as it reduces the need for additional infrastructure.