Type II Barricade with 8"x24" Panels and High Intensity Stripes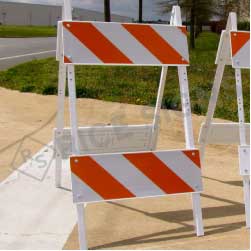 ---
Details for Type II Barricade with 8"x24" Panels and High Intensity Stripes:
Meets M.U.T.C.D. specifications.
NCHRP-350 crash tested and approved.
Top panel: 24 in. wide x 8 in. tall - with stripes
Bottom panel: 24 in. wide x 6 in. tall - plain
Folding barricade is made with steel legs and blow-molded plastic panels for durability. Allows for barricade light attachment. Front has right slanted stirpes and back has left slanted stripes.
PART NO.
DESCRIPTION
PRICE EACH
ADD TO
CART
1 to 4
5 to 9
10 +

T2-EG

Type II Barricade - Engineer Grade

$73.60

$72.13
$70.66

T2-HI

Type II Barricade - High Intensity Prismatic Grade

$92.00

$90.16
$88.32

T2-UP

Type II Barricade - Full Cube Ultra Prismatic Grade

$126.50

$123.97
$121.44
Type II Barricade - Engineer Grade

SKU# T2-EG

| Quantity | Price Each |
| --- | --- |
| 1 to 4: | $73.60 |
| 5 to 9: | $72.13 |
| 10 +: | $70.66 |

Type II Barricade - High Intensity Prismatic Grade

SKU# T2-HI

| Quantity | Price Each |
| --- | --- |
| 1 to 4: | $92.00 |
| 5 to 9: | $90.16 |
| 10 +: | $88.32 |

Type II Barricade - Full Cube Ultra Prismatic Grade

SKU# T2-UP

| Quantity | Price Each |
| --- | --- |
| 1 to 4: | $126.50 |
| 5 to 9: | $123.97 |
| 10 +: | $121.44 |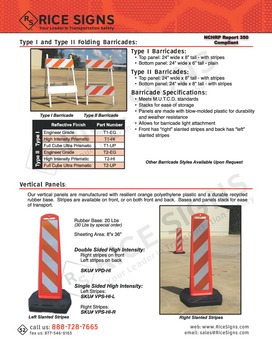 Catalog Page 52
Click to view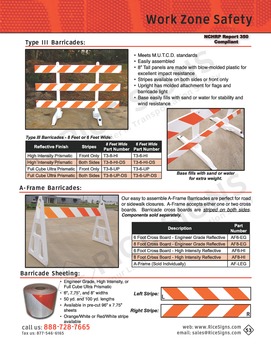 Catalog Page 53
Click to view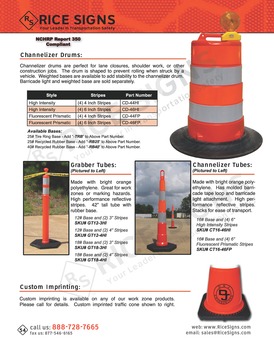 Catalog Page 54
Click to view