Channelizer Drums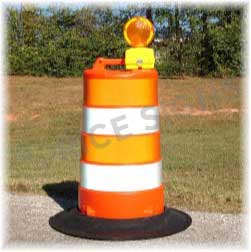 ---
Details for Channelizer Drums:
Meets M.U.T.C.D. specifications.
NCHRP-350 crash tested and approved.
Channelizer drums are perfect for lane closures, shoulder work, or other construction jobs. The drum is shaped to prevent rolling when struck by a vehicle. Weighted bases are available to add stability to the channelizer drum. Barricade light and weighted base are sold separately.
PART NO.
DESCRIPTION
PRICE EACH
ADD TO
CART
1 to 4
5 to 9
10 +

CD-46HI

Channelizer Drum - (4) 6 Inch Stripes - High Intensity

$107.75

$105.60
$103.44

CD-44HI

Channelizer Drum - (4) 4 Inch Stripes - High Intensity

$96.80

$94.86
$92.93

CD-46FP

Channelizer Drum - (4) 6 Inch Stripes - Fluorescent Prismatic

$156.90

$153.76
$150.62

CD-44FP

Channelizer Drum - (4) 4 Inch Stripes - Fluorescent Prismatic

$130.10

$127.50
$124.90

CD-TRB

25 Lb Tire Ring Base

$19.75

$19.36
$18.96
Channelizer Drum - (4) 6 Inch Stripes - High Intensity

SKU# CD-46HI

| Quantity | Price Each |
| --- | --- |
| 1 to 4: | $107.75 |
| 5 to 9: | $105.60 |
| 10 +: | $103.44 |

Channelizer Drum - (4) 4 Inch Stripes - High Intensity

SKU# CD-44HI

| Quantity | Price Each |
| --- | --- |
| 1 to 4: | $96.80 |
| 5 to 9: | $94.86 |
| 10 +: | $92.93 |

Channelizer Drum - (4) 6 Inch Stripes - Fluorescent Prismatic

SKU# CD-46FP

| Quantity | Price Each |
| --- | --- |
| 1 to 4: | $156.90 |
| 5 to 9: | $153.76 |
| 10 +: | $150.62 |

Channelizer Drum - (4) 4 Inch Stripes - Fluorescent Prismatic

SKU# CD-44FP

| Quantity | Price Each |
| --- | --- |
| 1 to 4: | $130.10 |
| 5 to 9: | $127.50 |
| 10 +: | $124.90 |

25 Lb Tire Ring Base

SKU# CD-TRB

| Quantity | Price Each |
| --- | --- |
| 1 to 4: | $19.75 |
| 5 to 9: | $19.36 |
| 10 +: | $18.96 |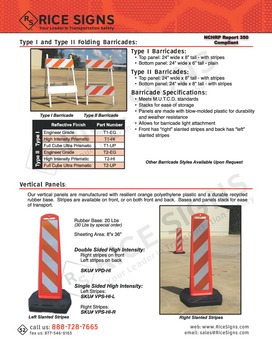 Catalog Page 52
Click to view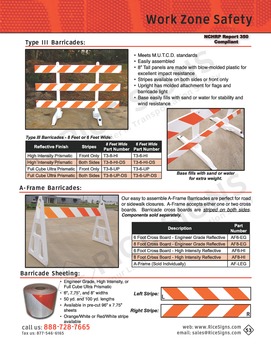 Catalog Page 53
Click to view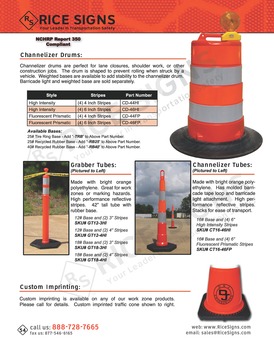 Catalog Page 54
Click to view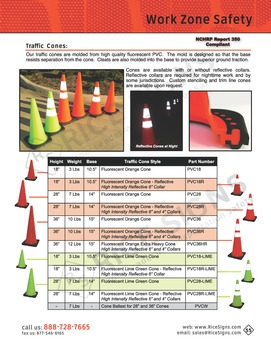 Catalog Page 55
Click to view