Type III Barricade - Double Sided - 8 Feet Wide - Full Cube Ultra Prismatic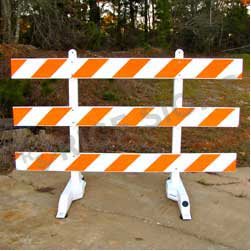 ---
Details for Type III Barricade - Double Sided - 8 Feet Wide - Full Cube Ultra Prismatic:
Meets M.U.T.C.D. specifications.
NCHRP-350 crash tested and approved.
8 Inch tall panels are made with blow-molded plastic for excellent impact resistance.
Barricade has molded attachment for optional flags and barricade light.
Base fills with sand or water for extra stability and wind resistance.
PART NO.
DESCRIPTION
PRICE EACH
ADD TO
CART
1 to 4
5 to 9
10 +

T3-6-HI

Type III Barricade - One Sided - 6 Feet Wide - High Intensity Prismatic

$251.85

$246.81
$241.78

T3-6-HI-DS

Type III Barricade - Double Sided - 6 Feet Wide - High Intensity Prismatic

$286.35

$280.62
$274.90

T3-6-UP

Type III Barricade - One Sided - 6 Feet Wide - Full Cube Ultra Prismatic

$289.80

$284.00
$278.21

T3-6-UP-DS

Type III Barricade - Double Sided - 6 Feet Wide - Full Cube Ultra Prismatic

$335.80

$329.08
$322.37

T3-8-HI

Type III Barricade - One Sided - 8 Feet Wide - High Intensity Prismatic

$274.85

$269.35
$263.86

T3-8-HI-DS

Type III Barricade - Double Sided - 8 Feet Wide - High Intensity Prismatic

$332.35

$325.70
$319.06

T3-8-UP

Type III Barricade - One Sided - 8 Feet Wide - Full Cube Ultra Prismatic

$378.35

$370.78
$363.22

T3-8-UP-DS

Type III Barricade - Double Sided - 8 Feet Wide - Full Cube Ultra Prismatic

$403.65

$395.58
$387.50
Type III Barricade - One Sided - 6 Feet Wide - High Intensity Prismatic

SKU# T3-6-HI

| Quantity | Price Each |
| --- | --- |
| 1 to 4: | $251.85 |
| 5 to 9: | $246.81 |
| 10 +: | $241.78 |

Type III Barricade - Double Sided - 6 Feet Wide - High Intensity Prismatic

SKU# T3-6-HI-DS

| Quantity | Price Each |
| --- | --- |
| 1 to 4: | $286.35 |
| 5 to 9: | $280.62 |
| 10 +: | $274.90 |

Type III Barricade - One Sided - 6 Feet Wide - Full Cube Ultra Prismatic

SKU# T3-6-UP

| Quantity | Price Each |
| --- | --- |
| 1 to 4: | $289.80 |
| 5 to 9: | $284.00 |
| 10 +: | $278.21 |

Type III Barricade - Double Sided - 6 Feet Wide - Full Cube Ultra Prismatic

SKU# T3-6-UP-DS

| Quantity | Price Each |
| --- | --- |
| 1 to 4: | $335.80 |
| 5 to 9: | $329.08 |
| 10 +: | $322.37 |

Type III Barricade - One Sided - 8 Feet Wide - High Intensity Prismatic

SKU# T3-8-HI

| Quantity | Price Each |
| --- | --- |
| 1 to 4: | $274.85 |
| 5 to 9: | $269.35 |
| 10 +: | $263.86 |

Type III Barricade - Double Sided - 8 Feet Wide - High Intensity Prismatic

SKU# T3-8-HI-DS

| Quantity | Price Each |
| --- | --- |
| 1 to 4: | $332.35 |
| 5 to 9: | $325.70 |
| 10 +: | $319.06 |

Type III Barricade - One Sided - 8 Feet Wide - Full Cube Ultra Prismatic

SKU# T3-8-UP

| Quantity | Price Each |
| --- | --- |
| 1 to 4: | $378.35 |
| 5 to 9: | $370.78 |
| 10 +: | $363.22 |

Type III Barricade - Double Sided - 8 Feet Wide - Full Cube Ultra Prismatic

SKU# T3-8-UP-DS

| Quantity | Price Each |
| --- | --- |
| 1 to 4: | $403.65 |
| 5 to 9: | $395.58 |
| 10 +: | $387.50 |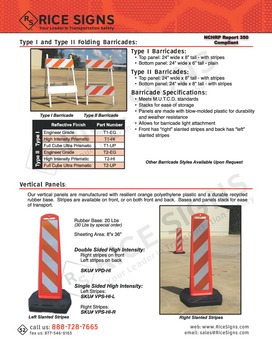 Catalog Page 52
Click to view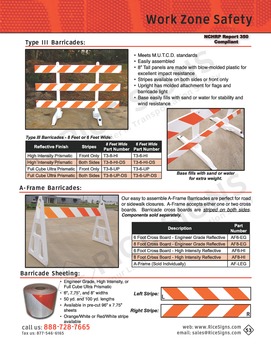 Catalog Page 53
Click to view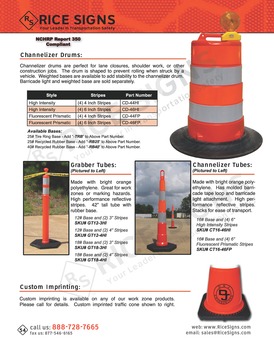 Catalog Page 54
Click to view