Heavy Duty Tripod Sign Stand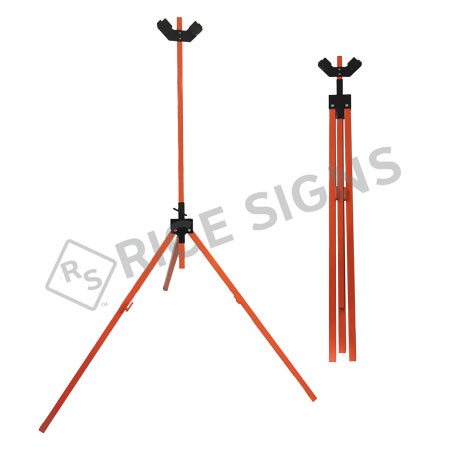 ---
Details for Heavy Duty Tripod Sign Stand:
Signs and stands are sold separately.
Meets M.U.T.C.D. specifications and FLDOT specifications.
NCHRP-350 crash tested and approved.
12" from sign to ground (with 48x48 sign).
Works with metal, plywood, composite, and corrugated signs. Also works with roll-up signs when configured with roll-up mounting bracket (RU2500-RU).
This heavy duty tripod stand holds aluminum signs. The RU2500-RU has an extra bracket to allow for roll-up signs.
PART NO.
DESCRIPTION
PRICE EACH
ADD TO
CART
1 to 3
4 to 7
8 +

RU2500-M

Heavy Duty Tripod Sign Stand with Sign Bracket for Metal Signs

$99.95

$94.95
$91.95

RU2500-RU

Heavy Duty Tripod Sign Stand with Sign Brackets for Metal Signs and Roll-up Signs

$119.95

$113.95
$110.35
Heavy Duty Tripod Sign Stand with Sign Bracket for Metal Signs

SKU# RU2500-M

| Quantity | Price Each |
| --- | --- |
| 1 to 3: | $99.95 |
| 4 to 7: | $94.95 |
| 8 +: | $91.95 |

Heavy Duty Tripod Sign Stand with Sign Brackets for Metal Signs and Roll-up Signs

SKU# RU2500-RU

| Quantity | Price Each |
| --- | --- |
| 1 to 3: | $119.95 |
| 4 to 7: | $113.95 |
| 8 +: | $110.35 |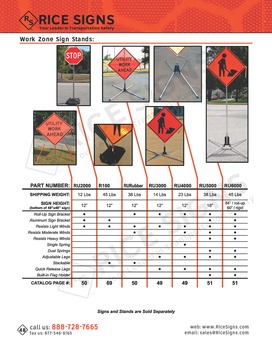 Catalog Page 48
Click to view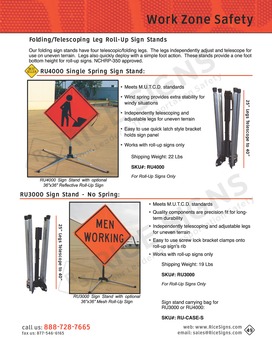 Catalog Page 49
Click to view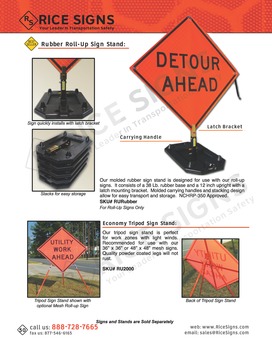 Catalog Page 50
Click to view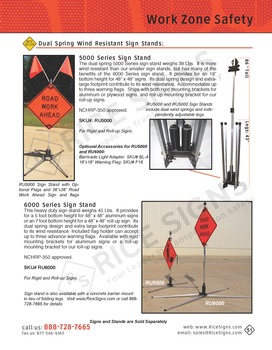 Catalog Page 51
Click to view